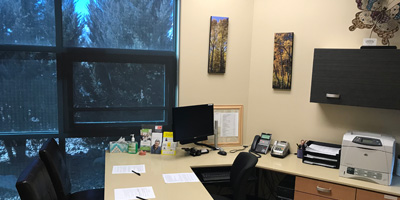 Financials & Insurance
Our primary goal is to provide you with the finest, leading-edge oral surgery and dental implant procedures available today. We are concerned about you and your dental care and make every effort to ensure that you will be treated in the most responsible manner, with kindness and understanding. In order to assist you with your investment in your oral health, we have outlined the financial options available.
We ask all of our patients to take care of their fees on, or before, the day of their treatment. For your convenience, we accept cash, checks, and credit card payments.
As a courtesy to you, we will submit your claim forms. Please remember you are fully responsible for all fees charged by this office regardless of your dental benefits. Your dental benefits are part of an agreement you or your employer has made for payment of your care. This generally has little to do with the treatment you may need or the cost of that treatment.
We will send you a monthly statement. Most insurance companies will respond within four to six weeks. Please call our office if your statement does not reflect your insurance payment within that time frame. Any remaining balance after your insurance has paid is your responsibility and your prompt remittance is appreciated.
If you have any questions regarding payment arrangements for your initial visit or treatment, please call our administrative staff at 775-782-6491.
Carson Valley Oral Surgery is contracted with the following Dental Insurance Companies. Even if we are not contracted with your insurance company, we can usually bill them for you.  Our office can also often assist patients with "out of network" approval if necessary. Most procedures done by Dr. Gray are considered dental procedures and can be billed through your dental insurance. Please have both your dental and your medical insurance information when you call for an appointment. Include all companies you are insured with (if you have more than one insurance), so that we can bill accurately for you.
We Now Accept Checks
Carson Valley Oral Surgery now accepts personal checks through the Telecheck service. When you present your check for payment, your check is authorized through a specially designed, secure TeleCheck system that captures banking information and the amount of the check. During the transaction process, you'll be asked to sign for authorization. Signing the receipt, is similar to signing for a credit card transaction. Your signature authorizes TeleCheck to present the check to your bank electronically, and to transfer funds to pay the business from which you're purchasing goods or services. You will receive a copy of the receipt for your records. Within one to two business days, funds will be withdrawn from your checking account. When you reconcile your bank statement these transactions will appear in the same area as debit transactions.
Pay with CareCredit
Learn how to use the CareCredit credit card to pay for your health, wellness and personal care needs. CareCredit's financing options can help you manage out-of-pocket healthcare expenses.
Click on the logo to see if you prequalify for the CareCredit credit card without impacting your credit score.
I have dental insurance. Will you bill my insurance? How much do I need to pay?
We bill all insurance carriers but are contracted with the following dental plans: Aetna, Delta, United Concordia, Guardian, St. Mary's, and plans in the Diversified Dental network.  Many plans pay us well even if we are not contracted, but it is your responsibility to know the details of your plan. You are responsible for payment in full on your first visit (50% if we are contracted with your insurance).  We will bill your insurance and payments will be credited to your account, or we will send you a refund.  If you need surgery, we can submit a predetermination to let you know your benefit in advance.  You are responsible for the amount your insurance will not pay on your surgery day.  Because predeterminations can take 3-4 weeks, you may not be able to wait (you are in pain!).  If there is insufficient time to process a predetermination, we will call your insurance, verify coverage, and call you with the copay, the amount not covered by insurance. The copay is due on the day of surgery.  If your insurance sends payments to you rather than us, you will need to pay 100% on the day of surgery.  
Do you take Medicare or Medicaid?
Dr. Gray is not a Medicare or Medicaid provider.  We therefore cannot bill either, and Medicare/Medicaid patients scheduling for a medical issue such as a biopsy need to sign a private contract and pay in full.
I do not have dental insurance. What can I do?
Payment is required prior to surgery.  If you are not able to pay for the surgery, you may apply with CareCredit, a company that will finance healthcare often at no interest or low interest.  Carson Valley Oral Surgery does not finance surgical care.
What forms of payment do you accept?
We accept cash, money orders, personal checks, cashier's checks, VISA, MasterCard, American Express and Discover. 
Do you offer discounts for cash payments, seniors, or multiple family members?
Sorry—we do not offer discounts. Our patients pay the same amounts for the same procedures.
What if I forget to bring my payment in full on the day of surgery?
Because it is our po
licy to receive payment
prior to surgery, you will be rescheduled.

What if I reschedule or cancel my surgery?
If y
ou give 24 hours notice, there will be no charge.  If you do not give 24
hour
s
notice, there will be a $25
charge for
local anesthesia
surgeries
a
nd $50 for
general anesthesia
surgeries
.
If you have any questions, please call
our 
Office Manager, Shelly, at 782-6491
.
Look at more patient info. . .